Are you looking for a place to stay in Sydney for a limited amount of time? There's no need to spend your vacation confined inside a hotel room if you're visiting Sydney for business or pleasure. In Sydney, there are several great short-term accommodation alternatives available, and it may be difficult to determine which one is best for you. That's why we've compiled a list of the top things to look for when renting short-term accommodations.
Location: The first and most important thing to consider when renting short-term accommodations is the location. You want to make sure that the property is situated in a convenient area, close to all of the attractions and amenities that you will be interested in. Sydney is a large city with plenty to see and do, so make sure the accommodation you choose is centrally located! Walking distance to good restaurants, shopping, and public transportation are all key factors in choosing the right place to stay. Additionally, you'll want to make sure that the accommodations are clean and comfortable, with all the amenities you need for a great stay. Excellent customer service is also important, in case you have any questions or problems during your stay. With so many things to consider, it's no wonder that finding the perfect short-term rental can be daunting. However, by keeping your needs and wants in mind, you can be sure to find the perfect place for an enjoyable and memorable stay in Sydney.
Amenities: When you're looking for a short-term rental, it's important to make sure that the apartment has all of the amenities that you need. This includes things like laundry facilities, internet access, cable TV, and parking. It's also a good idea to check if there is a kitchenette or full kitchen available, as this can come in handy if you don't want to eat out every night. Short-term rental apartments often have better amenities than hotels and are more affordable too! So when you're searching for your next rental, be sure to keep these amenities in mind. You'll be glad you did when you have everything you need for a comfortable stay.
Price: Short-term rentals in Sydney vary in price depending on their location, but there are some great deals to be found for those who look hard enough. If you can get a good deal on your accommodation then it's worth taking advantage of that because it will save money over time – especially when compared with staying at a hotel which can cost upwards of $500 per night! Short-term rentals range from as low as $100/night up until around $400/night but these prices may vary depending on where exactly they are located within the city itself or how many bedrooms they offer. However, regardless of price, all short-term rentals in Sydney offer great value for money when compared to other accommodation options such as hotels. Not only will you save money on your nightly rate, but you'll also have access to cooking and laundry facilities which will further reduce your costs. So if you're looking for somewhere to stay in Sydney, be sure to check out the wide range of short-term rental properties available – you might just find the perfect place at the price that's right for you!
Short-term rentals can be expensive, but you don't want to pay for anything that isn't explained upfront. Make sure the price of your accommodation is transparent when booking online so there aren't any hidden costs involved later on.
Space: When choosing short-term accommodation in Sydney, spaciousness is an important consideration. If you are traveling with a large group, you'll want to make sure that the property can comfortably accommodate everyone. Likewise, if you're traveling solo or as a couple, you won't need as much space. Short-stay apartments and houses usually offer more space than hotel rooms, so this is something to keep in mind when making your choice. Keep in mind that spaciousness doesn't necessarily mean luxury – there are many affordable options that will still provide you with plenty of room to move. Ultimately, it's up to you to decide how much space you need and what kind of property will best suit your needs.
Facilities: When it comes to renting short-term accommodations, one important thing to look out for is the facilities on offer. This includes things like nearby gyms, pools, spas, and saunas – all of which can come in handy while on holiday! If these facilities are important to you then be sure to ask the property owner or manager before booking, as not all properties offer them. Additionally, it's worth asking if the facilities are up to date and well-maintained. After all, there's nothing worse than arriving at your rental only to find that the pool is green and the gym equipment is outdated! By doing your research in advance, you can ensure that you'll have access to all the facilities you need during your stay.
Why do people stay in Short-term accommodation?
There are many reasons why people might choose to stay in a Short-term rental. Sometimes it is simply because there are not enough hotel rooms available in the city or town where they want to visit, and Short-term rentals offer an attractive and affordable alternative. Short-term rentals can also be a great option for families who want more space than what is typically offered in a hotel room. Additionally, people may choose Short-term rentals as a way to save money on their travel costs, as these properties often offer better value for money than traditional hotels. Lastly, they provide guests with access to amenities that they would not find at a typical hotel, such as kitchens, laundry facilities, and pools. So whether you're looking for a place to stay while on vacation or you need a temporary home base while in town for work, short-term rentals are definitely worth considering!
How to find a temporary place to leave in?
There are a few ways to find Short-term rentals. The most common way is through online platforms. Websites that allow you to search for properties in a specific city or town, and they provide photos, pricing information, and reviews from other guests who have stayed in the property. Additionally, many cities have their own Short-term rental websites that list only local properties. If you're not sure where to start your search, simply do a Google search for " [city name]".
Another option is to contact a property management company like Sydney Dreams that specializes in short-term rentals. They will be able to help you find a property that meets your needs and budget. Finally, if you know of any Short-term rentals in your area, you can always ask the owner or manager if they have any properties available for rent.
How do you know if you've found a legitimate short-term rental?
When looking for Short-term rentals, it's important to be aware of scams. There are many fake properties and rental listings online, so it's important to do your research before booking. One way to protect yourself is to only book through reputable websites or agencies. Additionally, you can ask the owner or manager questions about the property, such as how many bedrooms and bathrooms it has, what amenities are included, and what the nightly rate is.
Short-term rentals can be a great option for families as well who want more space than what is typically offered in a hotel room.
What else that need to look for in Short-term rentals?
Look at the basic essentials of Short-term rentals such as beds, towels, and linen. If you travel with children, the Short-term rental should have child safety features such as window locks on all windows and doors that are at ground level or above. You will also need to check there is no pool fence if your children like swimming! Short-term rentals are often advertised as having everything you need including kitchen utensils, cutlery, and crockery. However, it is important to check these before booking a rental accommodation with children so they don't get bored while staying there! You may want to ask the owner or manager of the rental if they can provide you with a list of what is provided so that you don't have to bring these things from home.
Lastly, Short-term rentals can be a wonderful way to spend time with family and friends while also saving money on your accommodation costs. So these rentals may be just what you're looking for! If you have any questions, please feel free to send us a message.
Short-term rentals can also offer a great way to meet other people while on vacation as most of these accommodations are located in central areas near popular attractions, restaurants, and nightlife.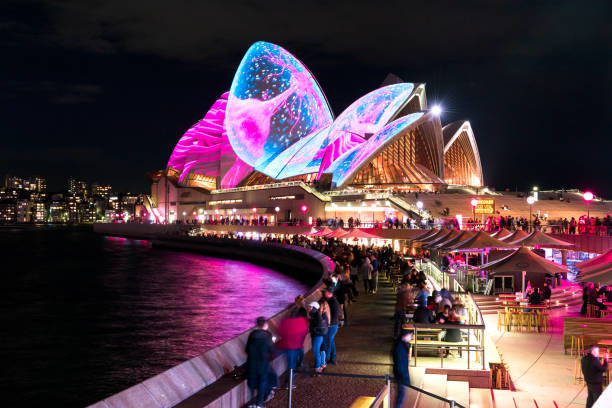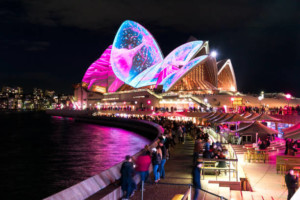 Sydney, Australia – June 01, 2017: The Sydney Opera House has a colourful design projected onto its sails at night as part of the Vivid Sydney festival.
When it comes to finding the perfect short-term rental, we've got you covered. Our website features a variety of listings that are sure to fit your needs. Double-check our website for top things to look for when renting a short-term rental. With so many options to choose from, you're sure to find the perfect place to stay. All of our listings are backed by our satisfaction guarantee, so you can book with confidence knowing that we'll be there to help if you need us. Thanks for choosing us!